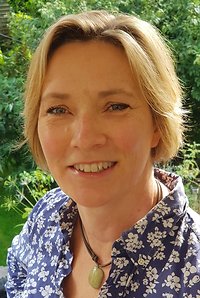 Hi, I'm Jude.

I feel so privileged to be able to use the powerful process of hypnotherapy and other therapies - to help people to transform their lives. My aim is to provide the best and most positive experience and outcome for each client. Every person is special and unique and I give every client my utmost focus and attention.

I work with many people, with all types of issues, as well as with students of hypnotherapy. I continuously study and research areas and techniques, so that I constantly evolve as a practitioner. This means that I will always do my best, to help you move forwards in your life.

I have gathered extensive knowledge and experience throughout my work with many clients and students, my continued studies, diverse careers, motherhood, world travel, chronic illness, meditation and self development practices. This has provided me with empathy and understanding which I am able to apply to my hypnotherapy work and all who come to see me, as clients.

Jude Hoy - BSc (Hons) Psych, Dip Hyp, GQHP, GHR Reg. CNHC Reg.

Please note - if I do not think hypnotherapy, or me as your hypnotherapist, may be of help to you, I will tell you. It would not be helpful or ethical to continue otherwise.

CONTACT ME to find out more about how I may be able to help YOU.


Qualifications and Accreditations
It is important to have confidence and trust in your chosen therapist. I have been qualified in Hypnotherapy and Psychotherapy as a Practitioner for over 13 years and in Psychology for over 30 years. I am also a Diet and Nutrition Adviser and a Life Coach, which I use to enhance my work as a Clinical Hypnotherapist. In addition, I am a Course Tutor at MindWorks Therapy Training in Nottingham and a trained Hypnotherapy Supervisor.

My Qualifications and Accreditations and Experience include:
BSc Hons Psychology
Practitioners Diploma in Hypnotherapy & Psychotherapy (Dip Hyp)
General Qualification in Hypnotherapy Practice (GQHP)
Course Tutor at a MindWorks Therapy Training, Nottingham
Integrative Supervisor
Former Lecturer in Psychology
General Hypnotherapy Registered (GHR) Practitioner
Complementary and Natural Healthcare Council (CNHC) Registered Practitioner - for Hypnotherapy
EFT Tapping & TFT Practitioner
Positive Psychology Practitioner
Certificate in Core Transformation
Diet and Nutritional Adviser Diploma
Life Coach Diploma
IMS (International Menopause Society) IMPART level 1

Full insurance to practice Hypnotherapy, Life Coaching, and Diet and Nutrition

I abide by the Code of Ethics for GHSC (General Hypnotherapy Standards Council) and the CNHC (Complementary and Natural Healthcare Council). I regularly attend CPD (continued professional development) and supervision.

All sessions are confidential.

Generally, and where appropriate, I provide recordings of my hypnotherapy sessions for you. This enables you to reinforce the benefits of hypnotherapy, in between and after our sessions.
Getting Started with Hypnotherapy
If you would like to find out more about how hypnotherapy may be able to help you, or to make an appointment, just follow these simple steps:
1. Call, text or email me. CONTACT ME
2. Arrange for a free 30 min consultation by phone or on-line - with no obligation.
A Typical Session
• Warm welcome
• A relaxed chat, to find out more about you and your particular issue, or to see how have been getting on, if you have had a previous session
• Sit back and relax!
• Work through your bespoke, individually tailored session,
• Finish the session with a brief chat about your experience.
• Book the next appointment, if one is needed.